Chiropractic Care Hanover Park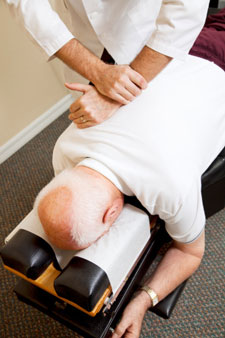 Experience the most popular, conservative, safest, drug-free healing and health option out there!
Mention chiropractic care and you may think that it requires cracking or popping a bone back in place to achieve results. Let's set the record straight. Chiropractic is about helping the body restore function that was lost due to overuse, injury, aging, degeneration or arthritis.
You can experience not only better function, but the many benefits of chiropractic care: greater flexibility, mobility, strength and health to the body at the optimum level for each person. Dr. Harris uses proven, conservative, hands-on light manipulations to get excellent results for his patients.
A Heart for Helping Patients
Led by Dr. Harris, every staff member at Harris Chiropractic has a heart for the patients who walk through our doors. "We are all caring and passionate about helping patients achieve more than they've been able to do in a long time for their health, their life and their family," he says.
Our Approach to Care
The light approach Dr. Harris uses gets the job done in helping to restore the function of the spine and promote better overall health.
Help for Many Conditions
Though chiropractic is highly effective in helping to alleviate back and neck pain, it is also helpful for the following:
Auto accident injuries
Headaches
Developmental issues in children
Numbness and tingling
Pregnancy-related aches and pains
Sciatica and radiating pains
Repetitive-use injuries
Work-related injuries
Discover for yourself the many benefits of chiropractic care. Contact us to book a same-day appointment today! We accept insurance and feature on-site digital X-rays.
---
Chiropractic Care | Harris Chiropractic | (630) 483-7246